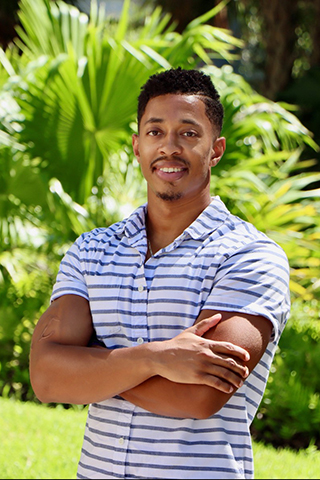 nmm35@miami.edu
Nkosi Muse is an Environmental Science and Policy PhD student at the University of Miami's Rosentiel School for Marine, Atmospheric, and Earth Sciences and Abess Center. Muse is interested in ensuring that our cities (within the United States and around the world) are equitably prepared for the implications of climate change, while also working to mitigate contributions to global warming. His research involves mixed quantitative and qualitative methods, from identifying exposure and vulnerability to climate threats (i.e., extreme heat, flooding), to analyzing and proposing equitable and inclusive policy.
Originally from Somerset, New Jersey, Muse is an alumnus of UNC Charlotte and Georgia State University, where he earned his Bachelor's in Meteorology and his Master's in Geosciences and Climate Policy. His research career began during his undergraduate matriculation with the Partnership Education Program (PEP) and the Significant Opportunities in Atmospheric Research and Science Program (SOARS), where his research was focused on software engineering to understand weather extremes (flooding, hurricanes, etc.) and their societal impacts. Muse has also spent time at Lawrence Berkeley National Laboratory, working on methods of effective science communication.
Muse is a former Division I Track & Field athlete, and remains an avid athlete in his free time.
Instagram ⋅ LinkedIn ⋅ ASU profile ⋅ GSU profile