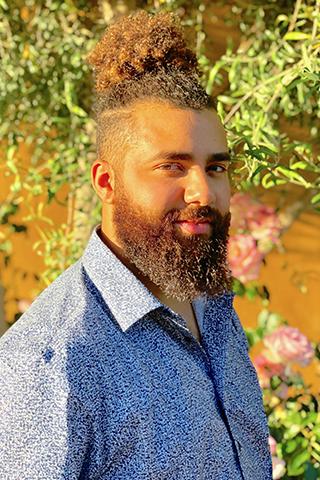 PhD Student
Hudson is interested in documenting the uneven impacts and unjust burdens of climate change and building response pathways for marginalized frontline communities. 
A.J. Hudson is a doctoral researcher at the Abess Center for Ecosystem Science and Policy. His goals are to illuminate the uneven impacts and unjust burdens of climate change while co-producing stakeholder-driven policy responses to environmental hazards with marginalized frontline communities. In his current research, Hudson uses mixed-methods approaches centered around Climate Science, Urban & Restoration Ecology, Critical Environmental Justice, and Community Psychology.
Hudson graduated from Columbia University with his B.A. in Psychology, then spent several years teaching high school science, and eventually helped to found a public high school in one of the most disenfranchised neighborhoods in Brooklyn. He then attended Yale University and graduated with his M.S. in Environmental Science. After Yale, Hudson joined UPROSE as a Climate Justice Organizer through the University of Michigan's Environmental Fellows Program. Through this fellowship, he lead community workshops on climate change action, organized to pass New York State's CLCPA, and helped plan and execute UPROSE's 7th Climate Justice Youth Summit—the nation's largest gathering of young people of color on climate change.
Through his interdisciplinary climate change research and continuing community advocacy work for climate justice in Miami, Hudson aims to bridge his past roles as an organizer, activist, and teacher, to a future in the academy as a conduit for social change and a force that topples the traditional barriers built between universities and communities.