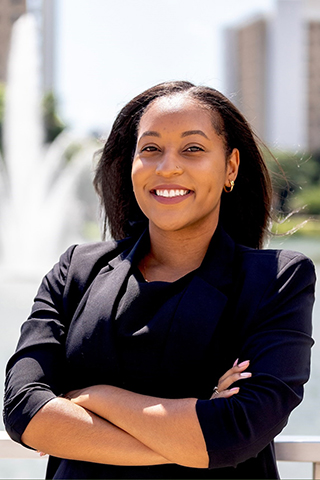 Jalyse Cuff is a PhD student in the University of Miami's Environmental Science and Policy program at the Rosenstiel School for Marine, Atmospheric, and Earth Science. She is interested in climate change mitigation with a focus in sea level rise, flood risk, and community response to extreme weather events.

Cuff is originally from Hollywood, Florida and earned a B.S. in Biology from Howard University in 2016. During her undergraduate studies, Cuff was awarded the Environmental Biology Scholars Fellowship funded by the National Science Foundation (NSF). She completed research projects in field ecology using quantitative and qualitative experimental approaches to study elemental defense mechanisms in metal hyperaccumulating plants. She also participated in a summer internship program at University of California, San Diego, which provided her the opportunity to work with research scientists and policy makers at the National Oceanic and Atmospheric Administration (NOAA). Cuff's research investigated isotope levels found in offshore south pacific green sea turtles to further understand their migratory patterns.

Prior to entering graduate studies, Cuff worked at the Environmental Protection Agency (EPA) headquarters in Washington, DC. At EPA, Cuff worked in the Office of Water's Engineering and Analysis division aiding environmental assessments in review of industry specific effluent limitation guidelines and analytical method approvals.